Company picnics, customer appreciation days, and promotional events come together quickly and on budget at Bounce Orlando. Whether doing an event for an office of five or a charity bash for twenty thousand, our team is equipped to handle events of every scope and scale. Find out how you can pull together everything you need with one call to our corporate event planners. Bounce Orlando has a large inventory for you to choose from making attraction and event equipment selections a snap. With years of experience in the corporate event planning space, Bounce Orlando can create just the right atmosphere to meet your goals. Add to that a professional staff that can supervise attraction or man concession stands, you'll have the perfect event team on your side.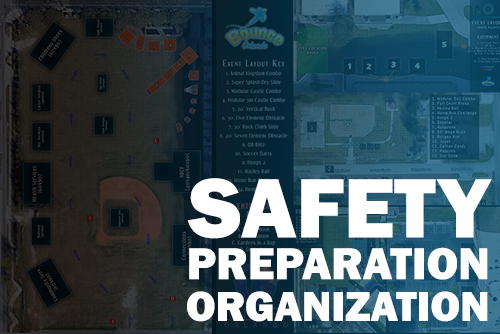 SAFETY FIRST: LET US START PLANNING EARLY!
At Bounce Orlando, we pride ourselves on our ability to deliver safety and preparedness no matter the size or scope of an event. To be sure your event goes as smoothly as possible, we work tirelessly to develop a customized layout specific for your organization's needs and venue requirements. Starting with an aerial photograph of your event site, we scale and grid your setup location to ensure proper equipment sizing and spacing compliant with fire code and industry safety standards. We are then able to identify equipment entrances, exits, queue lines, attendant posts, utility or generator placement, extension and hose routing, foot traffic flow, and any additional posts or stations necessary to ensure your event is safe and secure.


GET STARTED!