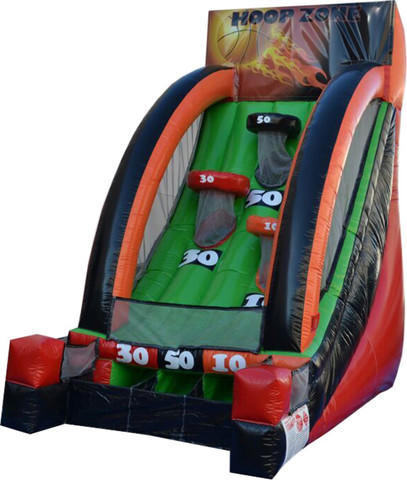 Hoop Zone
Actual Size: 15'L x 8'W x 13'H
Setup Size: 18'L x 11'W x 16'H
Electric: 1 Standard Outlet




Hoop Zone is fun!
Nothing like a friendly game of hoops with your family and friends. Hours of competative fun trying to top your own score or your opponents. It has 3 hoops at different distances so all can play. There is an internal ball return that catches the ball, if you make the basket. Game on!
---
See larger Images:



Aweina. "We have rented wet slides and bounce houses several times from you, and you were always on time. We have always been so impressed with the level of professionalism from your crew. Thank you!"

Lee. "The crew that dropped off and picked up were VERY friendly and professional. And it was so affordable! Thanks, it was a great hit at our party!"