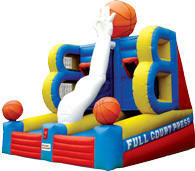 Full Court Press
Max Weight: 16' L x 14' W x 17' H
Electric: 1




Full Court Press is Super Hoops!
See who the best player is! Sink all of your balls before the other guy to show who has the skills! Players compete to see who can get all the baskets made before the other. The trick is... as you make a basket, your basket ball goes to the other side.
Setup area: minimum 20' L x 18' W x 21' H
See larger Images:



Aweina. "We have rented wet slides and bounce houses several times from you, and you were always on time. We have always been so impressed with the level of professionalism from your crew. Thank you!"

Lee. "The crew that dropped off and picked up were VERY friendly and professional. And it was so affordable! Thanks, it was a great hit at our party!"