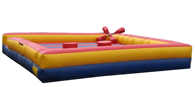 Joust
Max Weight: 20' L x 20' W x 5' H
Electric: 1




Gladiators Take your Positions!
American Gladiators eat your heart out. Use our foam poles to try and knock your opponent of his perch. En guarde! Pedestal Jousting is great fun. Players take their positions on soft pedestals armed with over-sized foam batons & try knock one another off.
Requires a single 110v circuit and approximately 2ft clearance around and above the unit.
Setup area: minimum 24' L x 13' W x 16' H
See larger Images:




Lee. "Great Experience!!! Thank you very much."

Tina. "We've have nothing but positive things to say about Bounce Orlando ..... Clean, friendly and reliable. We use you for all of our special occasions."